LIVE is an extension to MOVE and COMET, it seamlessly integrates to provide your Vendors and Salespeople unrivalled real time access to the sales process.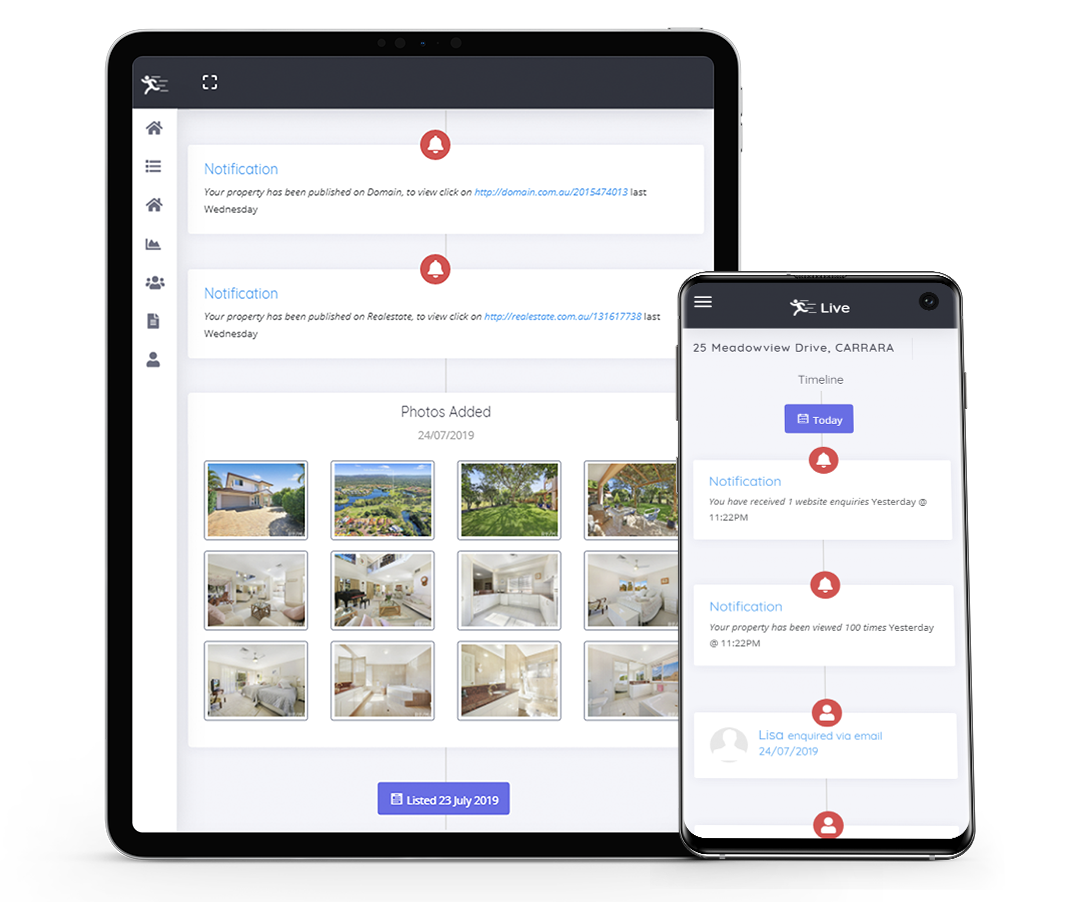 Introducing
LIVE
Real-time updates for yourself and your Vendors
Get immediate feedback and access to information 24/7, for both you and your vendors. Technology is constantly evolving and with information moving faster than ever, why not take a massive leap forward and bring your Vendors with you.
Inhabit's Vendor Live allows you to share real-time information with your Vendors.
You maintain total control. Share as much or as little information as best suits your style. Choose complete automation and keep your Vendor fully informed in real-time, or provide them snippets and follow-up yourself with a personalised delivery and explanation.
Features at a Glance
What is LIVE
Inhabit's VENDOR LIVE is a Web App. This means it looks and works like an App you would download from Google Play or the Apple Store, however no installation is required or any special permissions needed.
VENDOR LIVE also incorporates automatic Notifications that alert you and your Vendor to important events which provides a wealth of detailed information regarding the progress of marketing campaign.
Notifications
Keep your Vendors in the loop with real-time notifications sent to their Mobile or email account. Notifications are automatically generated based upon significant events, such as their property being published on a major website, or the 10th website enquiry, or the 5000th email containing their property being sent.
Summary
Offers your Vendor an overall snapshot of the marketing and sale process. Highlights the number of interested parties, days on market, matching with buyers in your database, website exposure and website interest.
Timeline
An attractive, easy to read and handy timeline of activities that allows your Vendors to quickly understand what action has been performed and when it was completed.
Promotion
Present your properties for sale and rent on a large homepage map. For some agencies it's a great way to demonstrate their market coverage and dominance.
Website Metrics
LIVE collects detailed metrics from major websites and collates it together to give your Vendor a detailed analysis of how the websites are performing and the level of interest in their property.
Email Metrics
Track every email sent that includes your Vendors property and provide them detailed information on the reach and effectiveness of your email campaigns.
Enquiries
Share website enquiries, inspections and open home details immediately with Vendors. You control when you only share the fact that you've received an enquiry, through to share open home attendees feedback on property presentation and price.
Documents
Provide your Vendors with a convenient shared storage location for important documents, such as building & pest reports, authorities, advertising invoices, title searches, etc.
Advertising
Keep your Vendor fully appraised of their advertising expenditure at all times. All raised invoices are included and can be downloaded for your Vendors convenience. Even allow your Vendor to pay online.
Market Competition
LIVE has access to recent sales and current listings and can provide your Vendor convenient access to this information to help them determine just how their property stacks up.
Contact
Provide your Vendor a convenient way to stay in contact with you, direct from LIVE.
Notifications
Give your Vendors Real Time Feedback
LIVE allows you to send important notifications to yourself, as the Salesperson and to your Vendor. You can control what is sent to the Vendor and yourself. This allows you to know exactly what the Vendor sees and when. You can coordinate with immediate follow-up phone calls.

You can program LIVE via MOVE or COMET to send notification when certain internal tasks are checked off as well as a host of important feedback from websites and email campaigns.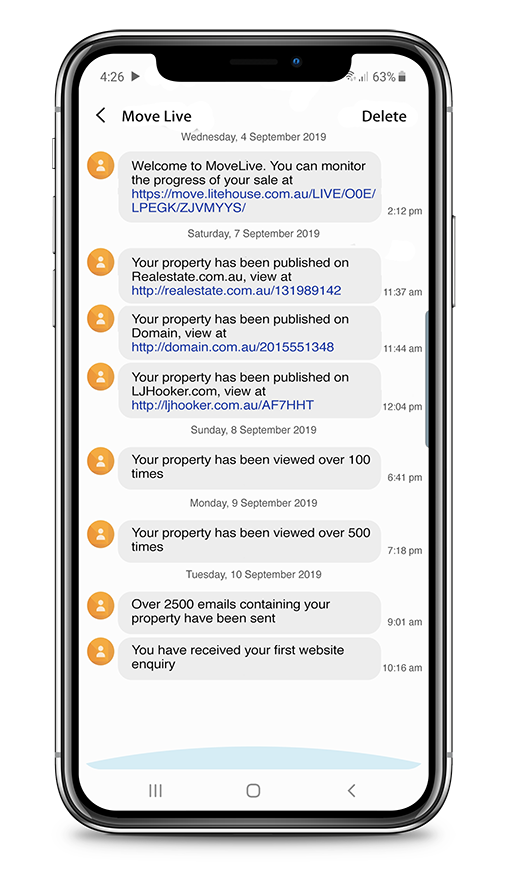 Welcome
LIVE Welcomes your Vendor to the System and provides a link where they can monitor in detail the progress of their sale. No App install is required and the information is available on any phone or web browser.
Published on Website
A notification is sent as soon as LIVE confirms their property has been published on any major website. The notification includes the link to the website so they can view immediately.
Website Views
LIVE collects many statistics from major websites including the number of property views. At certain predefined milestones we notify the Vendor.
Website Enquiries
As LIVE can collect and understand email enquiries from most websites. It notifies the Vendor as this occurs to keep them involved and to provide immediate positive feedback.
Emails Sent
LIVE understands which properties are in your bulk emails and keeps a tally for you. As the Vendors property is included in a certain number of emails, we notify them. This allows them to follow real time as you market their property to your database.
Documents
Any document uploaded to MOVE or COMET, or it generate by it, can be shared with your Vendors. You can choose to alert them of a new documents via a Notification.
Completed Tasks
LIVE can monitor Action Plans within MOVE or COMET, you can choose to notify the Vendor when certain tasks have been marked as complete within an Action Plan.
Open Home Reminders
Automatically notify your Vendors of upcoming Open Homes to avoid any surprises or last minute cancellations.
Open Home Summary
Once the feedback from an open home has been collated, notify your Vendor that its ready for viewing within LIVE.
Offers & Deposits
As you receive any Offers you can have LIVE notify your Vendors. They can then review and mange any and all offers within LIVE. Trust account receipts also generate notifications to ensure your Vendors are completely in the loop.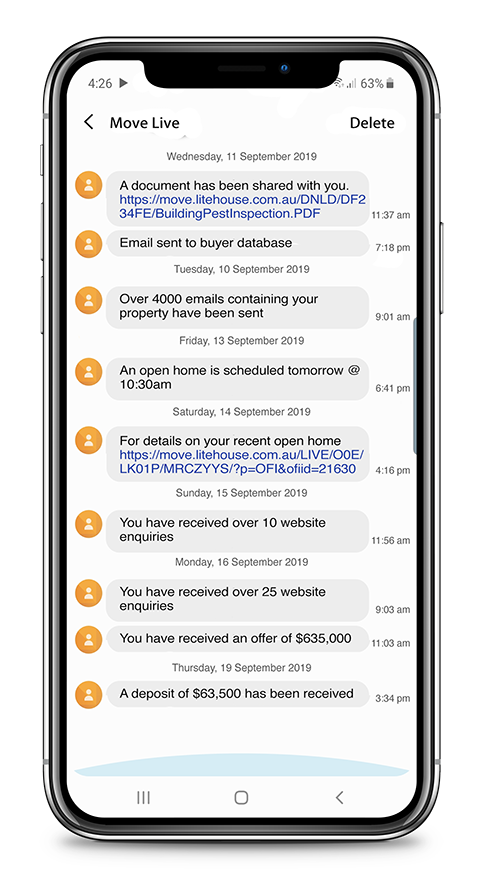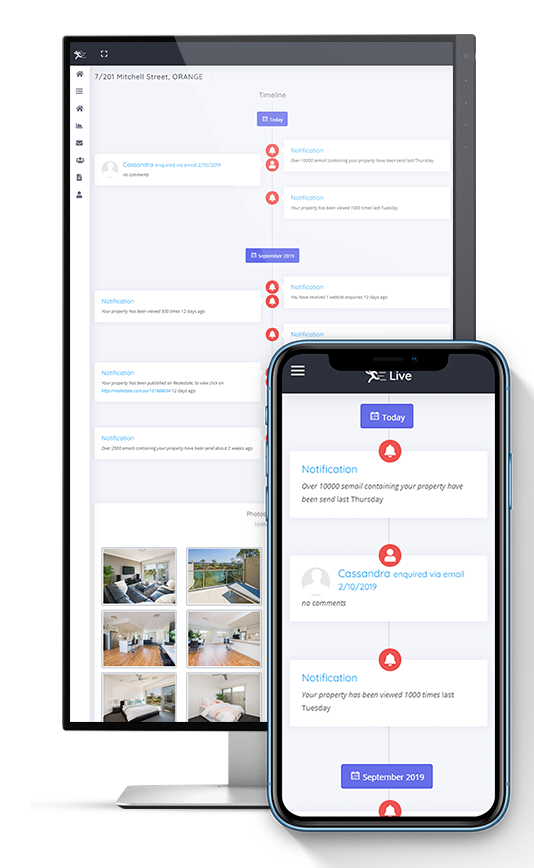 Timeline
Keep your Vendors up-to-date at a glance.
A handy timeline of activities allows your Vendor to quickly understand what has happened and when.
Any Notifications they may have received are listed as well as other significant activities, such as:
Website Marketing Milestones
Email Milestones
Open Homes & Attendees
Offers
Deposits
Advertising
Payments
Promotion
Preview website view
Allow your Vendor to preview the property before it hits the market. The preview option includes copy, photos, virtual tours and features. Once uploaded on the public websites, you can then include links to each of the sites so your Vendor can easily see how their property is presenting.
This communication engages the Vendor and encourages total transparency.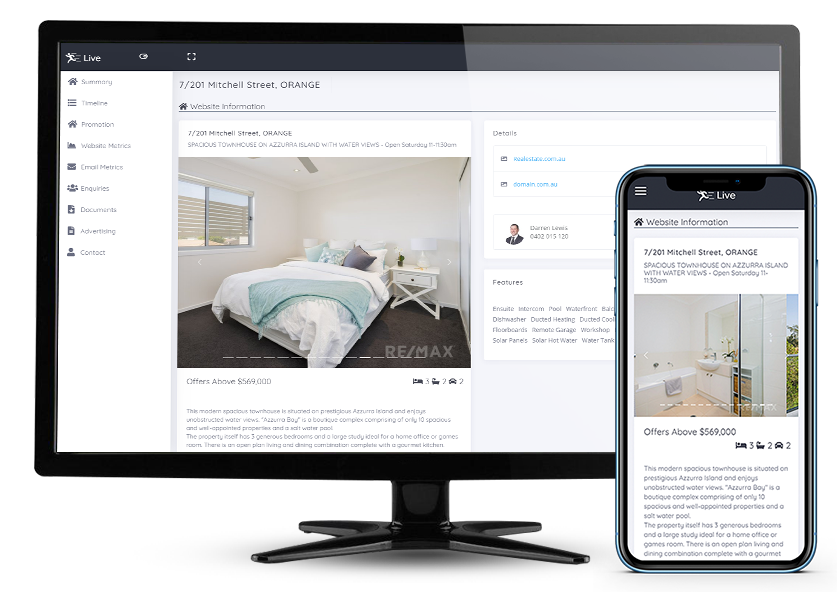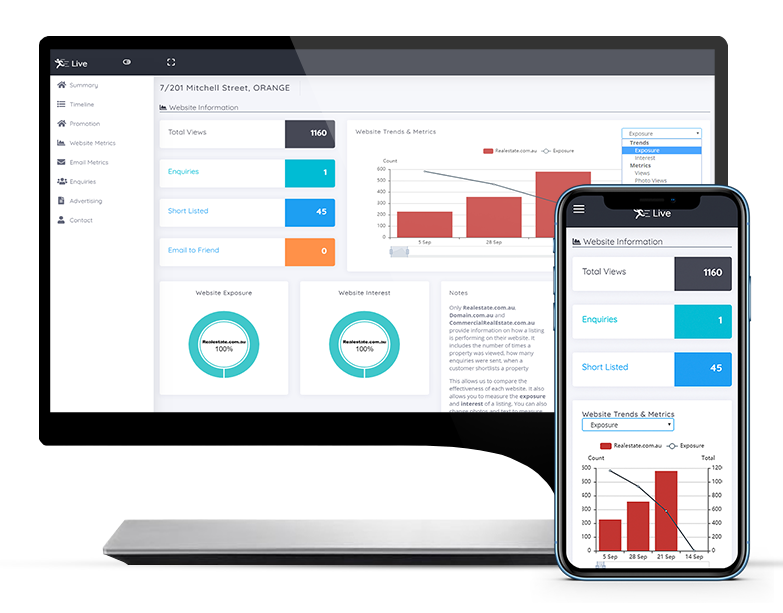 Websites Metrics
Automatically collect and share
LIVE displays detailed metrics from major websites and collates it together to give your Vendor an in-depth analysis of how the websites are performing and the level of interest in their property.
Watch the trends over time and monitor the responses when you refresh or reorder photos, rewrite advertising copy, adjust price, etc.
Email Campaigns
Display the success of your marketing campaigns
LIVE records each listing any time its included in an email. This allows your Vendor to see the number of people their property was sent to and other related email statistics like; delivery, opens, clicks, etc.
Its an important and worthy statistic to report to your Vendors to let them know of the exposure you generate for their listing from your client database.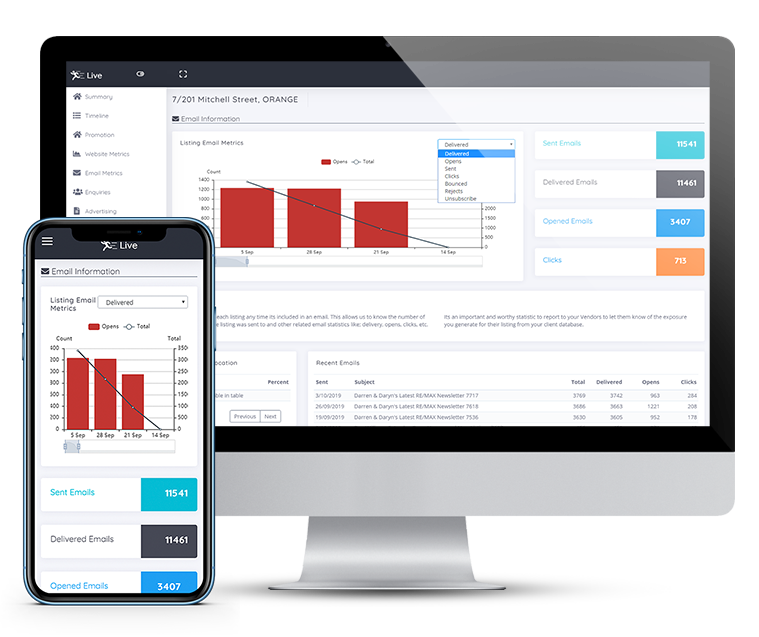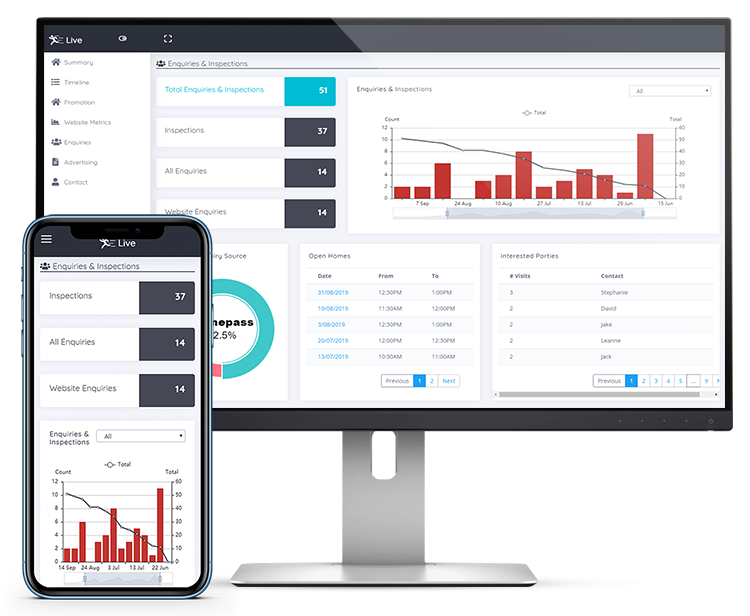 Enquiries
File, Track, Auto-Respond and Measure
Not only are enquiries from Websites are automatically recorded and displayed in LIVE, so are OFI attendees and their comments, as well as their source (where they heard about the listing). You have complete control over how much information is presented.
Having this information readily available can assist with your Vendor meetings.
Advertising
File, Track, Auto-Respond and Measure
VENDOR LIVE displays all advertising expenses on the screen, so there can be no bill shock. Every marketing action undertaken, every invoice raised and every payment received is visible.
This transparency emphasises your desire to create an honest and trustworthy relationship with your vendor.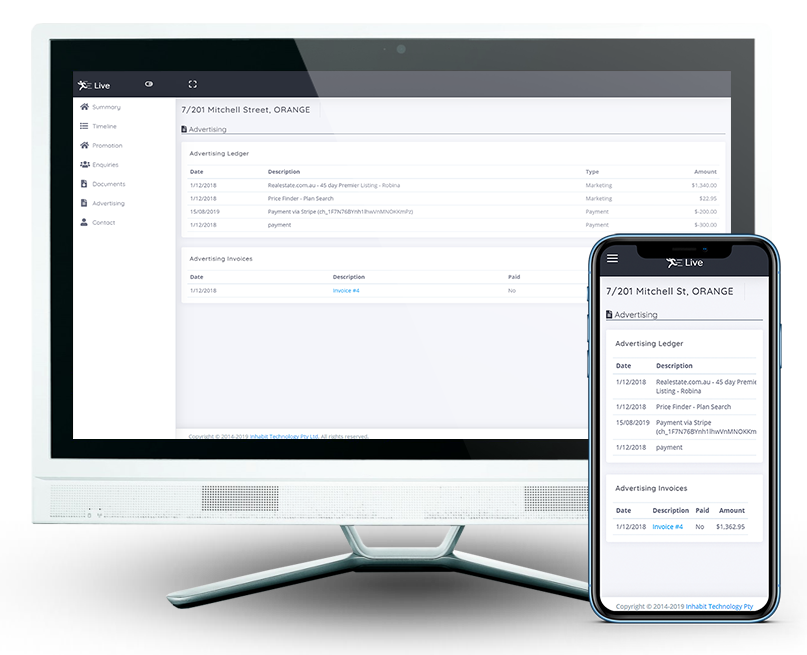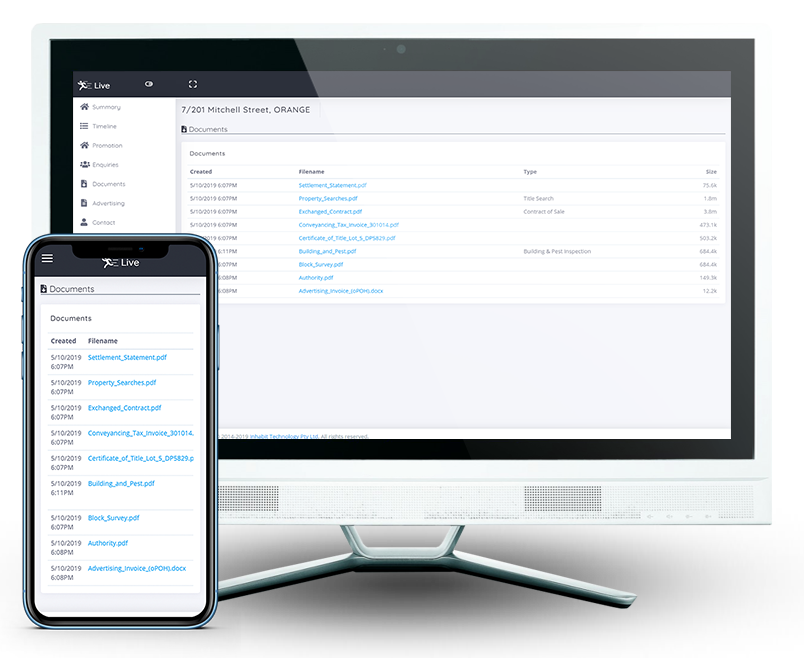 Share Documents
Documents are always available to your Vendor
Having the ability to give your Vendor access to important documents immediately is an extremely powerful feature. With VENDOR LIVE you can store and quickly share all formatted documents - there are no restrictions. PDF's, MS Word, Excel and more.
Request a call back, demo or confidential email to discuss